Sustainable Transition and Retention in Delivering Education (STRIDE)
According to Pakistan Social and Living Standards Measurement (PSLM) Survey 2014-15, 65 percent children in the appropriate age group are enrolled at the primary level in Pakistan. The corresponding figures are only 22 percent at the middle and 14 percent at the matric level. Also a huge number of children are out-of-school. Pakistan's crisis of out-of-school children cannot be fully resolved unless transition rates to next levels of education are increased.
A key barrier to low retention and transition rates is the lack of middle and high schools closer to students. Children who complete primary grade have to travel long distances to continue their education. Additional out-of-pocket expenses, lack of proper transport, fear of insecurity and social and cultural norms prevent parents to send their children to school; especially girls. In Bahawalpur district, for example, 196,228 students are enrolled at primary level. This number drops to only 38,844 and 27,824 students at middle and matric level. Multi-grade teaching at primary and higher level further reinforces the impact of these factors as it reduces teacher's attention to a class and contributes to dropout of children.
Institute of Social and Policy Sciences (I-SAPS) is undertaking an initiative to increase retention and transition rates of boys and girls from primary to middle and middle to matric levels. The initiative is called Sustainable Transition and Retention in Delivering Education (STRIDE). STRIDE is an innovative model of context-specific local planning, financing and service delivery to address a key dimension of poor access to education i.e. low retention in primary and high attrition of both boys and girls from primary to middle and middle to matric levels. STRIDE focuses on the use of 'actionable' evidence for planning at UC level and engaging the social and political capital at tehsil and district level for local solutions i.e. introduction of 'bigger' schools to reduce multi-grade teaching, afternoon middle and high schools to increase transition rates, and provision of transport facilities to reduce demand-side barriers.
The solutions proposed under STRIDE focus on using 'actionable' evidence for local planning and solutions. It focuses on specific barriers to access and transition from primary to middle and matric levels in select union councils which have high primary enrolment but no or insufficient number of middle and high schools. STRIDE aims to identify the needs of students, set out specific targets, milestones, and details of the solutions to be implemented – when, where, and how.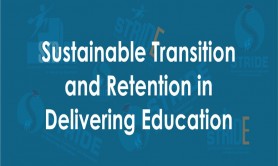 Contact for more information
education@i-saps.org
Tel: +92-51-111-739-739
Fax: +92-51-2825336
More..