Programs
In the health sector, I-SAPS is implementing a two-year initiative, titled "Community Health Partners for Empowerment, Voice and Accountability at Local Level," in association with Health and Nutrition Innovative Fund (HANIF).
Community Health Partners for Empowerment, Voice and Accountability
Pakistan has the world's third-highest number of new-born deaths (194,000 in 2010). The maternal mortality in rural areas is nearly twice as in urban areas of Pakistan, i.e. 319 women out of 100,000 die due to pregnancy related complications in rural areas in contrast to 175 in urban areas. In Punjab, the provincial government has been working vigorously to address this challenge. Department of Health has been carrying out appreciable efforts to establish linkages between community and health workers with a focus on minimizing the gap between service users and service providers of health services. Noticeable among these are Support Groups under Chief Minister's Initiative for Primary Healthcare (CMIPH) and Village Health Committees (VHCs) under Punjab Integrated Primary Health Care Model (PIPHCM). In addition, opportunities are also being created for establishing tehsil and District Community Health Councils. A quick analysis of these initiatives informs that the community health councils are yet not functional in a number of districts.
Institute of Social and Policy Sciences (I-SAPS) in order to assist and substantiate Department of Health, Government of Punjab implemented an initiative, titled "Community Health Partners for Empowerment, Voice and Accountability (CHP-EVA) in district Lodharan. The project was initiated with letter of support from EDO Health, Lodhran. As a possible pathway to bring this mechanism into being, an innovative model has been conceptualised and implemented by I-SAPS in the public health service domain of reproductive, maternal, new-born and child health (RMNCH) care in three tehsils of Lodhran district. This model, based on principles of democratic participation, accountability and responsiveness on one hand and iterative process of learning and relationship building on the other, attempts to establish a common ground to aggregate the interests of public health service consumers and communities at village, tehsil and district levels to influence the decision-makers, service delivery and policy process. The model has successfully established the missing links in the existing institutional opportunities at the lower-level by the formation and capacity building of higher-level community-based 'Tehsil Health Support Committees' and 'District Health Support Committees'. The higher-level committees are creating a vertical decision-support and feedback system by establishing linkages between the Village Health Committees and district health management and helping build an environment of mutual trust and collective decision making
For demand-side strengthening, the CHP-EVA initiative established Tehsil Health Support Committees (THSCs) and District Health Support Committee (DHSC) in district Lodhran. The project also undertook efforts to strengthen linkages between Lady Health Workers (LHWs) and Community Midwives (CMWs) for a sustainable networking and services provision at the local level. The DHSC and THSCs have been envisioned to serve as forums to facilitate citizens' access to decision making hallways providing them opportunity to express their views and to contribute to the shared goal of improving performance of CMWs. I-SAPS in tehsil Lodhran, through continuous efforts has been successful not only in establishing a systematic decision support system at the Tehsil level in Lodhran but also in achieving tangible results through administrative actions.
Impact So Far:
1. Out of 84 Village Health Committees (VHCs) in three targets UCs, 78 VHCs (93 percent) have been engaged under the initiative through initial and follow-up contacts and discussions.
2. Out of total 18 non-functional VHCs in the 3 target UCs, 12 VHCs have been functionalized (through regular meetings) and engaged under the project.
3. 13 community mid-wives and 40 Lady Health Workers capacitated and linkages among them strengthened.
4. Tehsil Health Support Committee (THSC) formulated and capacitated.
5. 13 key issues from the community identified and shared by the Tehsil Health Support Committee (THSC) with the relevant officials at the provincial level.
6. Following Administrative actions taken as a result of advocacy and engagement of THSC during the pilot phase:
a. UPS Provided to BHU-Gelley wall
b. UPS Provided to BHU-12-MPR
c. Medicine Provided-Rural Dispensary Rawani
d. LHV appointed -BHU-galley wall UC Saghwan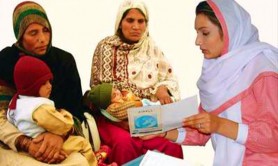 Contact for more information
health@i-saps.org
Tel: +92-51-111-739-739
Fax: +92-51-2825336
More..