I-SAPS work on health is guided by the vision of introducing interventions in both supply and demand side of reforms in the public health sector for accountability and improvement in service delivery. This is done through carrying out rigors research, producing locally-relevant knowledge and actionable evidence, and organizing and facilitating creative political debates and policy dialogues around health issues at the three tiers of government, including districts, tehsils and union councils.
On the supply-side, I-SAPS strives to inform polices and reform practices in the public health sector by engaging politician and relevant government officials as well as by introducing capacity building initiatives for improvement in service delivery.
Since citizens and communities have a very significant role to play in effective functioning of public health services, I-SAPS' work also helps enhance citizen's capacity for demand articulation and aggregate community voices at the district, tehsil and union council tiers to strengthen bottom-up demand-side decision support system.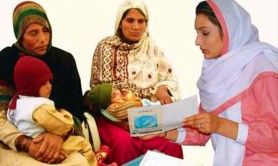 Contact for more information
health@i-saps.org
Tel: +92-51-111-739-739
Fax: +92-51-2825336
More..