Programs
Adult Female Literacy Program: Empowering Women in Rural Khyber Pakhtunkhwa through M-Learning
In Khyber Pakhtunkhwa (KP) province, where 64 out of every 100 women do not know how to read and write, the Institute of Social and Policy Sciences (I-SAPS) has teamed up with Mobilink Foundation and GuarantCo for an initiative to empower the rural women in Khyber Pakhtunkhwa by providing them literacy skills under the program titled "SMS-based Adult Female Literacy Programme". The initiative is being implemented in eight districts of Khyber Pakhtunkhwa including; Mardan, Swabi, Nowshera, Buner, Malakand, Haripur, Mansehra and Kohat.
The initiative effectively navigates through the cultural barriers by community mobilisation and the innovation of infusing literacy with information and communication technology (ICT). Globally, it has been observed that women in traditional societies face hurdles in accessing education due to social biases, cultural practices and restrictions on their mobility. To address this challenge, especially in rural areas, the initiative has proved to be a successful model of overcoming these cultural and social barriers by taking the traditional communities on board in providing ICT-based basic education to women in a close proximity to their homes.
Since ownership by the respective communities remains a cornerstone of our work, the active members of the local communities have been grouped in the form of Village Education Support Committees (VESCs) in around 154 villages in the program districts. The members of these committees include representatives from all sections of the community, especially the respected elders and influential individuals, who in result of sensitisation took ownership of the initiative for the betterment of their respective communities. Resultantly, I-SAPS not only had their full support in identification of teachers and learners in each of the 154 villages, but also have established around 150 easily-accessible Adult Literacy Centres where illiterate adult females of ages between 15 and 25 have been enrolled and imparted basic literacy skills.
The initiative is in line with the overarching framework of the National Education Policy 2009 as well as the National ICT Policy 2012 (Draft), which emphasises on actionable milestones and fundable projects that reflect the points of view of primary stakeholders and the technology industry. The initiative gives consideration to the fact that available literacy materials are not well adapted to the daily lives of learners in terms of content and interests and the learners find it hard to retain their interest in learning after completion of the basic coursework. Therefore, a customised curriculum and the use of mobile technology for sustained learning is the innovation being implemented under the project.
As the learners gain some level of literacy during their five-month basic literacy coursework, each of them is provided with a mobile phone in order to practice and further develop their newly acquired skills. The incentive of permanent ownership of a mobile phone also fuels interest of the female learners, who use their phone sets to send and receive text messages, helping them retain the basic language skills they have learnt. The initiative will enable the participating women to functional literacy skills in read newspaper, write a letter in Urdu and perform every day calculations, thereby facilitating them to manage domestic finances in a better manner and play a more productive role at community, family and individual levels.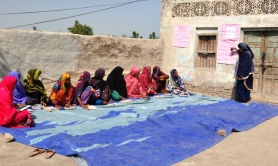 Contact for more information
literacy@i-saps.org
Tel: +92-51-111-739-739
Fax: +92-51-2825336
More..